1. Last Saturday, we had a friend over a dinner and I was thrilled to try a new recipe, a pork loin roast. The
recipe
sounded pretty easy: slice up pork loin roast, put apple slices between each slice, throw in dashes of honey/cinnamon, and let it cook in the crock pot for a few hours. Well the meat was nice and tender, but apparently honey and cinnamon are not the most flavor packed spices. It tasted decent, but at the same time was kinda bland. Live and learn. At least it was better than the time I ruined the waffle maker or made cookies that Jim said looked like "donkey turds".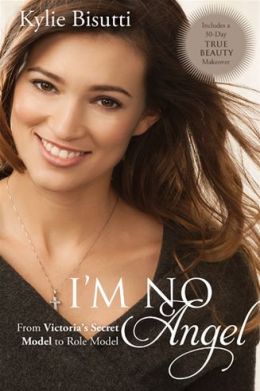 2. Since saying farewell to Netflix, I'm fascinated how much time I don't waste watching TV and actually really don't miss it that much. Less TV time, has helped me really get back into reading. Since December I've finished about 7 or 8 different books.
I went to the library on Monday to pick up a copy of this book I have been wanting to read for awhile now. Its the story of a woman who at a young age got into a successful modeling career which eventually took her to win the Victoria's Secret Fashion show in 2009 at age 19. Along her journey, she became a Christian. I was intrigued by this story line because I know sometimes I look at models/compare myself to them and think they have it all together, look perfect, and happy/successful women. Kylie opens up and talks about the dark side of all the glamour: emptiness, loneliness, feeling you're never good enough--even when a size 2, and being objectified by an entire industry. It was a great read; so much so, I finished it all on Monday night...late Monday night.
3. Feeling angry? Here are
some ideas on how NOT to handle it.
..I've learned the hard way. If you ain't kicking a hole in a door, you're one step ahead of me folks.
4. Last night was special night out with my Mom, sister, and MIL. Every spring a local church has a lady's night out at a local banquet hall: there's good food, drinks, shopping, and different women speakers speaking on a faith based theme. This year the theme was 'Cloud of Witnesses' and women who spoke shared their stories of faith and perseverance. One of the women who spoke was Amy O'Rourke, the wife of police officer Patrick O'Rourke from the metro Detroit community. Almost 2 years ago, Amy's husband was shot and killed by man who eventually took his own life. Amy's talk was SO inspiring: she speaks her their strong shared faith and how she forgives, and knows in the deepest part of her heart, her husband forgave the man who killed him.
Her faith, hope, sorrow, and message of forgiveness were incredible...and there wasn't a dry eye in that banquet hall.
5. So Jen's book is officially out...mine came in the mail yesterday & I'm tearing into it like a monkey on a cupcake. I'm REALLY excited to hopefully get together sometime this month with these lovelies:
Jenna
,
Dwija
, and
Iris
for an epic selfie picture with Jen's book & have a book release party together!!!
6. I was pretty disappointed when I heard Verily magazine would no longer be in print...but another magazine I signed up for, arrived for the first time this week.
Relevant
is a Christian magazine for young adults. It covers culture, music, faith, international issues, and intentional living. I was so excited when I saw my first issue in the mail box this week. Its a great read, and has some thought provoking articles to make you think.
If you're looking for something to challenge you & open your eyes of faith more, Relevant is a great option!!
7.
This picture sums me up SO.well.
Growing up, my version of trail mix consisted of picking out the raisins and M&M's...cause really we all know that's the point of the trail mix right?
Well this week Jim came home one day to find the trail mix totally naked of chocolate/salty goodness. All that was left was a bowl of picked over cashews and almonds....needless to say he wasn't thrilled. And then I had to explain all the nut leftovers in the trash.... #longstory #funtimes
Linking up with
the official authoress
herself!!